Georgia-Ireland Business Council

საქართველო-ირლანდიის ბიზნეს საბჭო

The Georgia Ireland Business Council is a B2B network promoting trade, commerce, enterprise and professional collaboration between Georgia and Ireland including financial services, infrastructure, agriculture, built environment, tourism, food and beverages, sports, transport, education and culture.
Our Vision
To engage with key stakeholders in Georgia and Ireland to
build ever stronger connections between Georgia and Ireland;
promote trade between Georgia (and the wider region) and Ireland (and the wider EU);
raise an awareness of Georgian products and services in Ireland, and awareness of Irish products and services in Georgia;
provide opportunities for synergy, collaboration and networking for the business communities in Georgia and Ireland;
organise promotional, cultural and social events in Ireland and Georgia;
promote Georgian trade with the wider EU;
Promote Irish trade with the wider region.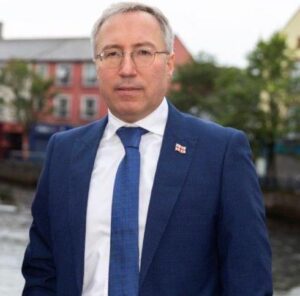 HE Mr. George Zurabashvili
Ambassador of Georgia to Ireland
James Bridgeman SC
Honorary Consul of Georgia in Ireland
 The Law Library, Dublin, Ireland and 4-5 Gray's Inn Square, London, UK.
Patronage
The Georgia Ireland Business Council is established under the patronage of 
HE Mr. George Zurabashvili
Ambassador of Georgia to Ireland
The Embassy of Georgia to Ireland